PF Interest To Be Credited Soon. How To Check EPF Balance, Passbook Online
Employees' Provident Fund (EPF) interest of 8.55 per cent for fiscal 2018 is set to be credited soon. If you are not aware of your EPF balance, there are many easy ways to check it. Employees' Provident Fund Organisation (EPFO) provides an online facility on its website via which you can check your EPF passbook. EPF balance can also be checked via the missed call and SMS facilities of EPFO. The Umang app, which is a one-stop solution for a host of government services, also allows EPFO subscribers to check their EPF balance.
How to check EPF balance via EPFO's website
Go to EPFO website, epfindia.gov.in. Click on e-Passbook towards the right.
You will be asked to input your UAN number, password and a captcha code. UAN stands for Universal Account Number which is allotted by EPFO. The UAN acts as an umbrella for multiple member ids allotted to an individual by different establishments.
Click on the member-id to view the e-passbook and know your EPF balance.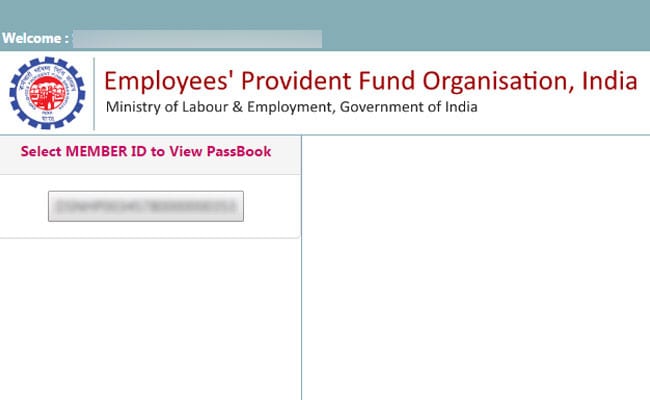 How to check EPF balance via missed call facility of EPFO
Subscribers registered on the UAN portal can dial 011-22901406 from their registered mobile number. In order to avail this facility, your mobile number must be activated with UAN at the official website of EPFO.
If you want to receive details of your last contribution and PF balance, your UAN must be seeded with any one of your bank account numbers, Aadhaar and permanent account numbers (PAN).
This service of EPFO is free.
How to check EPF balance via SMS
Members whose UAN is activated may know their latest PF contribution and balance by sending an SMS to 7738299899 from their registered mobile number. The member has to type "EPFOHO UAN" to 7738299899. The facility is available in 10 languages viz. English (default), Hindi, Punjabi, Gujarati, Marathi, Kannada, Telugu, Tamil, Malayalam and Bengali. For receiving SMS in any of the languages other than English, first three characters of the preferred language need to be added after UAN. For example, to receive the SMS in Hindi, you should send it as follows: "EPFOHO UAN HIN" to 7738299899.
How to check EPF balance via Umang app
Open Umang app and click on EPFO. Members will be directed to a page which shows employee-centric services, general services, employer-centric services, eKYC services, and Jeevan Praman.
Click on 'employee centric services', which will lead you to a page that lets you view the passbook and raise and track claim.
(Provident fund balance via Umang: Click on 'view passbook' and input your UAN.)
Click on 'view passbook' and input your UAN. Log in and type out the one time password (OTP) that will come on your registered mobile number. After this, you will be able to see your EPF balance.
EPFO, on Friday, asked its offices to credit 8.55 per cent rate of interest for 2017-18, which is the lowest rate since fiscal 2013.
EPFO has 5 crore subscribers. EPF is a mandatory contribution from individual salaries of employees for all companies that have more than 20 employees.
Source by:-ndtv
Share: